Blog
Promotional Products Help Increase Awareness for Charity
---
July 15, 2016
July News
---
---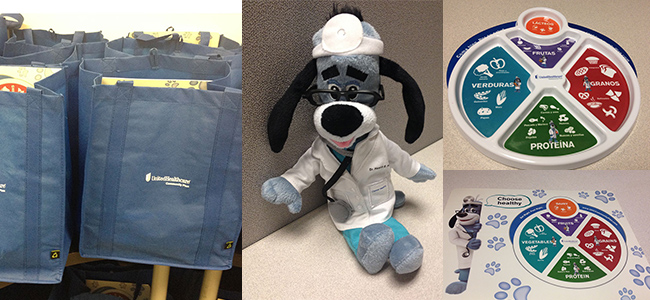 In honor of April being Autism Awareness Month, national charity Jaden's Voice recently held the grand opening of its West Philadelphia office. The open house included supportive politicians, educational seminars and plenty of promotional products.
UnitedHealthcare gave away bags full of logoed items tailored for children with autism. Inside the bags were a giant placemat plastered with a balanced diet diagram, a plastic plate version of the diagram with a Spanish translation, a colorful informational booklet, a car charger, crayons and a cute stuffed animal named Dr. Health E. Hound.
"They say it takes a village, I say it takes the world," said Jaden's Voice founder Terri Matthews, whose 9-year-old son Jaden was diagnosed at age 2. "He lost his voice, so I became his voice."
About 1 in 68 children have been identified with autism spectrum disorder, according to estimates from the CDC's Autism and Developmental Disabilities Monitoring Network. Jaden's Voice advocates for children with autism in underserved communities, providing financial assistance to families and teaching parents how to live with the disorder. "We need to train people so they're accommodating and understand how our families are impacted," Matthews said.
Pennsylvania State Representative Vanessa Lowery Brown and Philadelphia City Councilman Derek Green were also in attendance, both of whom have children on the autism spectrum. Brown's son suffers from learning differences and wasn't properly diagnosed until he was an adult. Green's 15-year-old son Julian was diagnosed around the same age as Jaden. He was able to get through kindergarten, Green said, but first grade was more challenging, so the councilman and his wife developed an autism support class at Julian's elementary school, which has now grown to three classes.
"You really can't dwell," Green said. "You have to be an active advocate and get intervention as early as possible so it will help your child in the future."
In addition to educating and assisting families, Jaden's Voice hosts a Web-based business membership program listing vendors whose products, services and locations have been certified as making life with autism easier and more dignified. For more information, visit www.jadensvoice.org.